Live selling continues to evolve. What started out in China with a big boom has since piqued the interests of consumers in Europe and the United States.
Now that it has gained traction, it's also no longer restricted to small shops and solo sellers. It has expanded into larger industries, and some of the biggest retail brands, such as Louis Vuitton, Burberry, and L'Oreal, are starting to invest in it.
Continue reading to learn how different industries and businesses have come to use livestreams to attract and engage with new and existing customers. Plus, growth forecasts suggest that even more major brands and industries will join the platform in the next few years.
Which industries are embracing live selling?
The reality is that live selling isn't for everyone. For instance, the buyer's full customer journey takes substantially longer in the B2B industry. Rarely does a customer see a product and decide to purchase it right away.
However, if you're selling directly to consumers, there are fewer stakeholders involved. As a result, the journey from awareness to purchase is much shorter, making live selling an ideal channel for B2C brands.
Here are three of the main industries that have really embraced this channel:
Women's apparel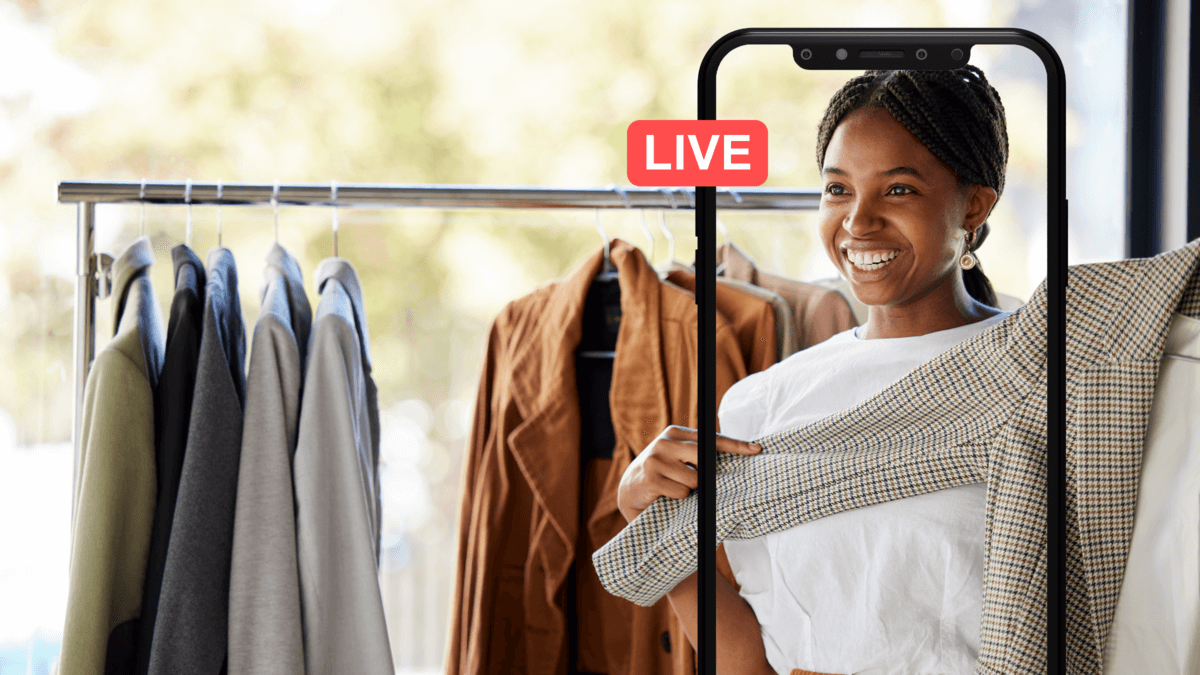 The global consulting firm McKinsey & Company identifies apparel and fashion as the leading categories in livestream events. Their analysis, which is based on numbers shared by iResearch, reveals that apparel and fashion boast a 36% market share. To put this popularity into better perspective, categories like consumer electronics and home decor have a market share of less than 5%.
Women are already comfortable buying fashion items online. A survey completed in 2022 revealed that more than 80% of female digital buyers bought clothing online in the past year. Considering that female shoppers trust online stores for buying apparel, it makes sense why live selling in this industry is leading the way.
One of the main benefits of livestream eCommerce is that it improves the overall customer experience by adding a playful element. Online fashion retailers can use the video format to let hosts try on different outfits and capture the joy that shopping for clothes brings.
Fashion brands like Aldo, Louis Vuitton, and Tommy Hilfiger understand that a lot of thought goes into putting the right foot forward. To help their target audience do the same, shoe brand Aldo, for example, partnered with celebrity stylists to share fashion tips.
Tommy Hilfiger has taken a similar route. However, instead of collaborating with a fashion expert, they turned to Formula 1 driver Lewis Hamilton. In addition to offering his endorsement, he was also available to answer his fans' questions during one of their live streaming events.
Jewelry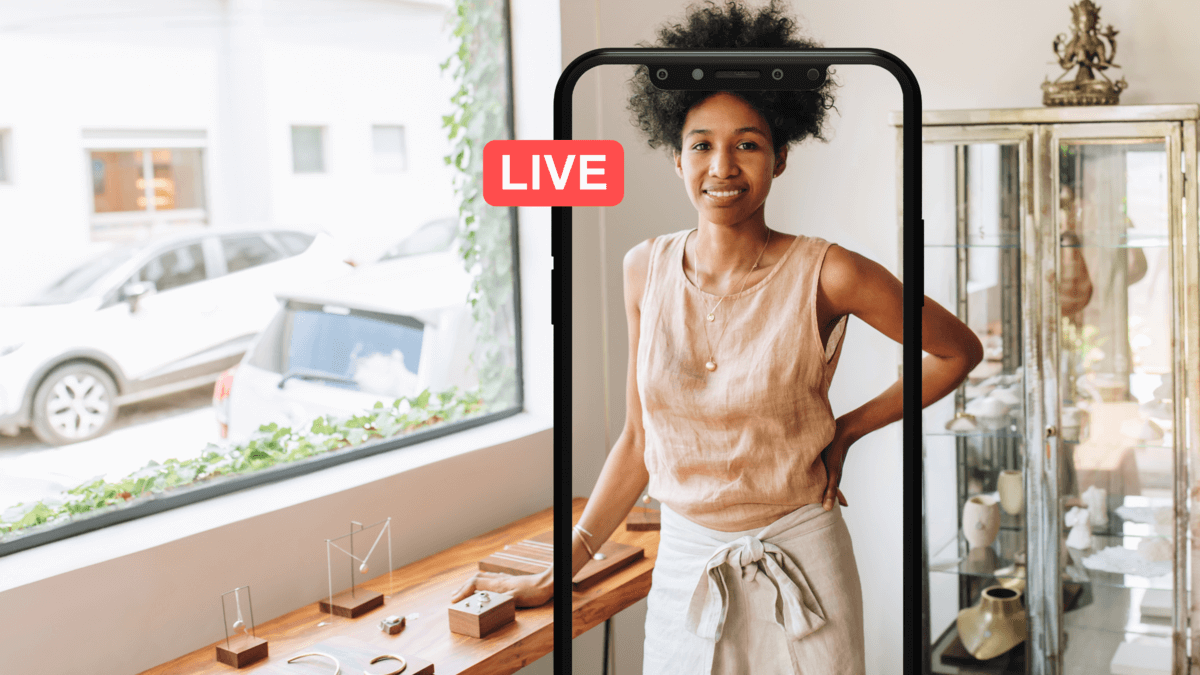 Industries selling high-value items like jewelry face much higher cart abandonment rates. It can be tricky to sell items like watches and engagement rings online, as consumers need to think carefully before making such a big purchase.
The ability to mimic the in-store experience is what makes livestream eCommerce such a well-liked medium for online jewelers. By doing this, they can develop the trust that is essential if you want your customer to make a costly purchase.
Live selling also gives jewelry sellers a way to offer personalized interactions. In addition to creating a more personalized experience, it also lets sellers offer guidance. This is an expectation if you're about to buy a high-priced item. What's more, when they're offering real-time guidance, it also creates the perfect opportunity for upselling. For example, earrings can be matched with a bracelet or necklace, and vice versa.
Swarovski tapped into these benefits. To make the experience even more exclusive, they opted to use live video for one-on-one virtual shopping and consultations instead of making the stream available to the public.
Sports merchandise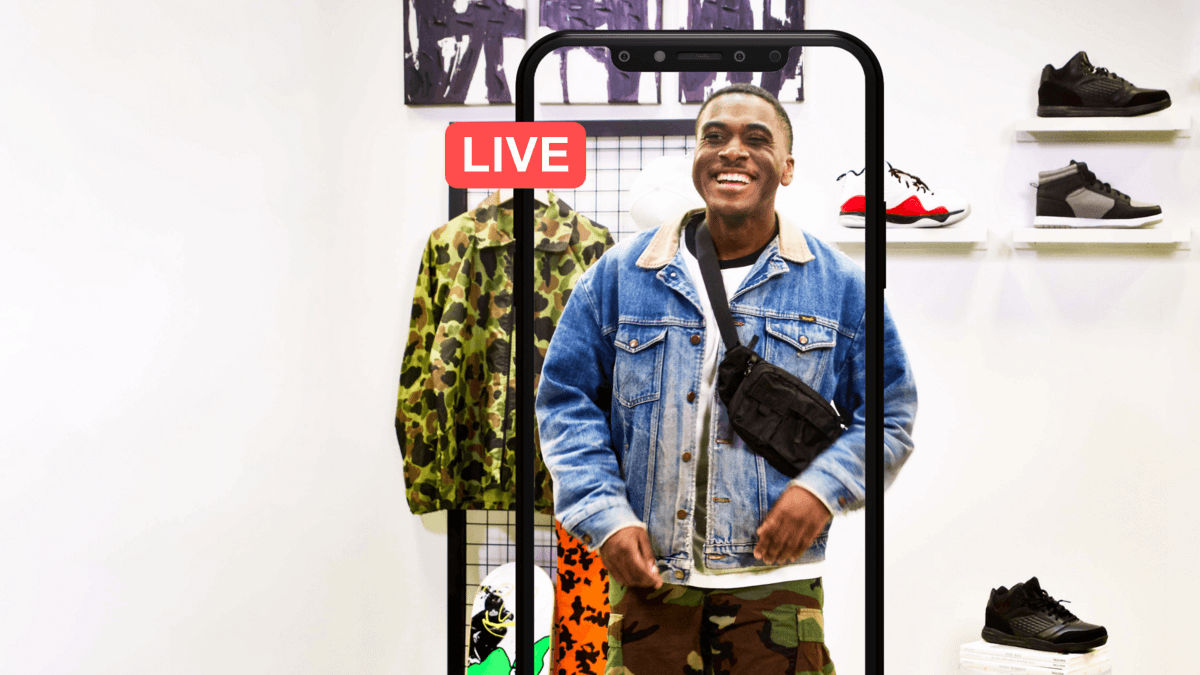 Sports are exciting. It's all about live action. This key trait, though, often gets lost when merchants try to sell sports apparel and equipment online. Static images and pre-recorded videos simply can't capture the same level of excitement and energy.
Live selling, on the other hand, is perfectly suited for this popular niche. Live streaming on platforms like Instagram, TikTok, and Facebook gives sport merchandisers the opportunity to display their products in action, helping their target audience go from intention to action—buy the product and hit the gym or open road.
This format can be used not only to focus on the physical dimensions of the product but also to promote a more active lifestyle, which is exactly what brands like Adidas have done.
Predictions for 2023 and beyond
The big question on everyone's mind is whether live selling is merely a fad, like some of the very products being pushed. Will we look back at this era in retail in the same way that we view infomercials from the 1980s?
Numerous statistics indicate that this won't be the case.
Between 2020 and 2022, eCommerce revenues generated via online shopping more than tripled to reach $17 billion by 2022. Needless to say, much of this incredible growth can be linked to the COVID-19 pandemic. It's anticipated that revenues in the United States will add up to about $55 billion by 2026.
Coresight Research Inc. expects that livestream shopping revenue in the US will reach $20 billion in 2023. The fact that 40% of US adults have not yet considered watching a live shopping event supports this. In fact, attendance was only 13%. But that doesn't mean there isn't opportunity, and those businesses that do partake in live selling are seeing faster adoption as well as new sources of revenue.
This anticipated growth means that more and more industries will resort to livestream shopping. For example, Fanatics, an American online retailer of licensed sportswear and collectibles, announced that they're also going to start using this engaging format to sell collectibles and trading cards in Q2 2023. Nick Bell, the CEO of Fanatics Live, accurately summarizes why so many industries have turned to live selling: "This is not just about taking a product and selling it; it's about creating this really entertaining format and experience."


About the Author: Koba is a content creator and regular contributor to Influencer Marketing Hub. For the past six years, she has helped SaaS companies, eCommerce brands, and website de-sign agencies to improve their social media marketing strategies.