From adding a touch of romance on Valentine's Day to embracing the patriotic spirit on the 4th of July, and filling our homes with festive cheer during Christmas, home décor holds a special place in our hearts. These adorable décor items have the power to uplift our mood, prepare us for celebrations, and create a warm ambiance for upcoming festivities.
It's no wonder that the home décor industry is a thriving market worth billions of dollars. In the United States alone, it has reached a staggering $202 billion, offering immense potential and consistent growth for online retail business owners like you.
The Challenges
As a home décor live seller, you can face unique challenges when it comes to showcasing your products and providing an immersive experience for your customers. Unlike clothing items, it's nearly impossible to replicate your studio setup to match your customers' own spaces like their patio or kitchen island.
From capturing the perfect visual representation of your products to tackling the complexities of shipping and logistics, selling home décor items through live streams requires a special touch. But fear not, because at CommentSold, we have cracked the code on successful live selling.
In this blog, we will unveil the secrets behind selling home décor items on social media live streams, shared by our onboarded live sellers who have been making impressive revenue along the way. Whether you're a boutique owner venturing into social media live selling or a seasoned retailer looking to boost your sales, we've got you covered.
Get ready to discover the top six tips for selling home décor items live on social media and take your business to new heights. Let's dive in.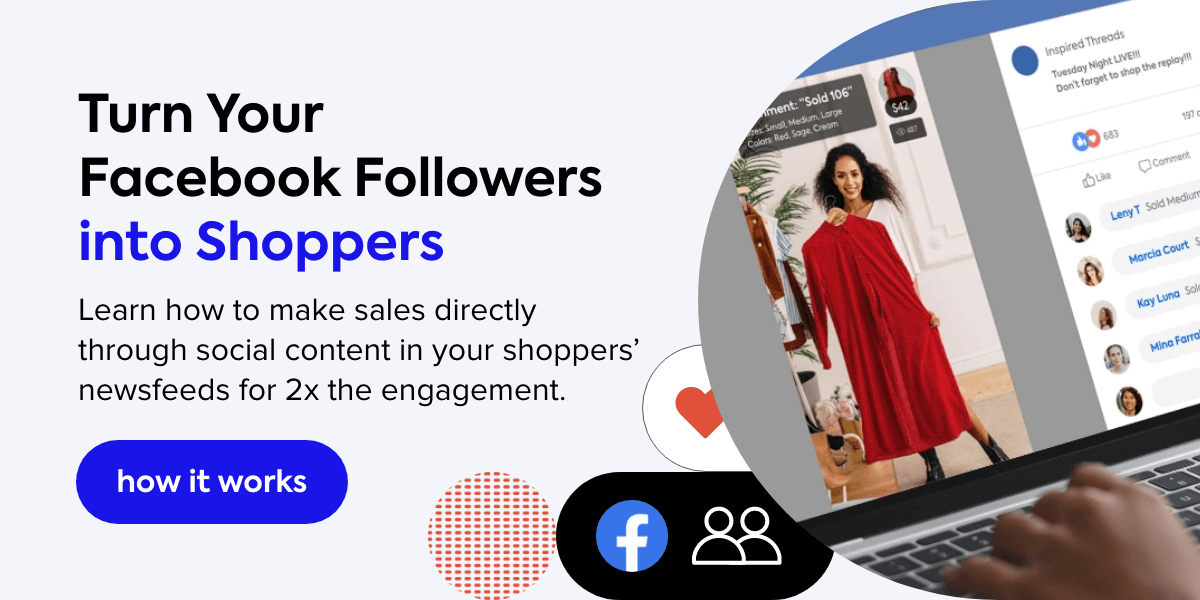 Tips for Selling Home Décor on Social Media
Tip #1: Keep It Seasonal And On Trend
In 2022, the home décor industry witnessed sales of $7 billion for Christmas and holiday decorations, signaling the perfect opportunity for you to prepare and capitalize on the seasonal fervor that customers eagerly embrace to infuse their homes with festive spirit. Here are some tips to maximize success:
Plan a holiday calendar to organize and host engaging live selling parties on social media.
Highlight "Valentine's-themed" home décor on your social media platforms, leveraging static posts and reels to captivate your audience during Valentine's Day.
Showcase charming "pumpkin-themed" fall décor as Halloween approaches, generating excitement among your followers.
Entice customers with attractive discounts, exclusive sneak peeks, and thematic product launches through social media, building anticipation for your live sales events.
Tip #2: Bundle Of Joy (And More Money)
Don't we all love to purchase a good deal bundle? Product bundles provide clients convenience and cost savings by combining related items into a single package. Bundle products are usually hot sellers as they offer a distinctive and well-crafted experience, which appeals to buyers looking for diversity and value in their purchases.
If you are selling a St. Patrick's Day-themed candle, make it all the more drool-worthy by pairing it with trinkets or decorative items in green! This way, you are curating an aesthetic for your customer already. The items in your bundles are paired to complement one another and save your customer the time and effort of thinking through everything.

Pro Tip: Let your creativity flow when pairing similar items together. And remember to offer lower pricing points on bundles when compared to a matching set of items purchased on its own.
Tip #3: It's All About the Aesthetics
Incorporating aesthetics into your social media live streams has a profound impact on customer psychology, captivating their attention and boosting their mood. This fall, as you showcase your autumn-themed home décor items, create an immersive experience by adorning your studio with a Halloween theme. From vibrant orange and yellow maple leaves to gothic tapestries, and chilling Halloween decorations, set the stage for a memorable shopping experience.
And it doesn't stop at holidays! Utilize themes like "baby shower," "bridal shower," or "Valentine's Day" to showcase pastel shades of home décor and entice your shoppers with delightful details like cake stands, colorful balloons, and cozy rugs.
Tip #4: Collaboration And Cross-Selling
Showcasing home décor items on your social media lives is just the beginning. To truly captivate your customers and demonstrate the utility of your products, consider collaborating with popular influencers in complementary niches.
Imagine teaming up with an artisanal mixologist or a live seller specializing in coffee creamers and baking goods. Together, you can create an exciting synergy where they showcase their delightful creations using your home décor items, while you feature their gastronomy products on your baking trays and cake stands.
This mutually beneficial collaboration allows for cross-selling, recommending each other's offerings to your respective customer bases, and reaching a broader audience during joint live selling sessions. Prepare for increased viewer counts as you leverage each other's social media followers and loyal customers for a truly dynamic sales experience.
Tip #5: Location, Location, Location
Don't let your live selling studio feel stagnant. Take a refreshing break and embark on a journey to the farmer's market, where you can showcase your products in their natural habitat. Imagine giving your viewers a firsthand experience as you visit a small business kiosk and fill your adorable jam jar with locally sourced marmalade.
Let them witness the charm of an old-school porcelain butter dish by swapping out the usual butter stick for homemade butter sticks sourced from the farmer's market. And why stop there? Take your viewers to the fields adorned with wildflowers and daisies, where you'll live-trim and create stunning floral arrangements using your bestselling vases and jars.
Let the beauty of nature inspire your audience, right before their eyes. With real-world demonstrations, you'll captivate their imagination and ignite their desire to own your exquisite home décor items. Step outside and bring your live selling to life.
Pro Tip: No one likes a glitchy network. So carry a fully-functioning wi-fi device when you live stream outside your studio.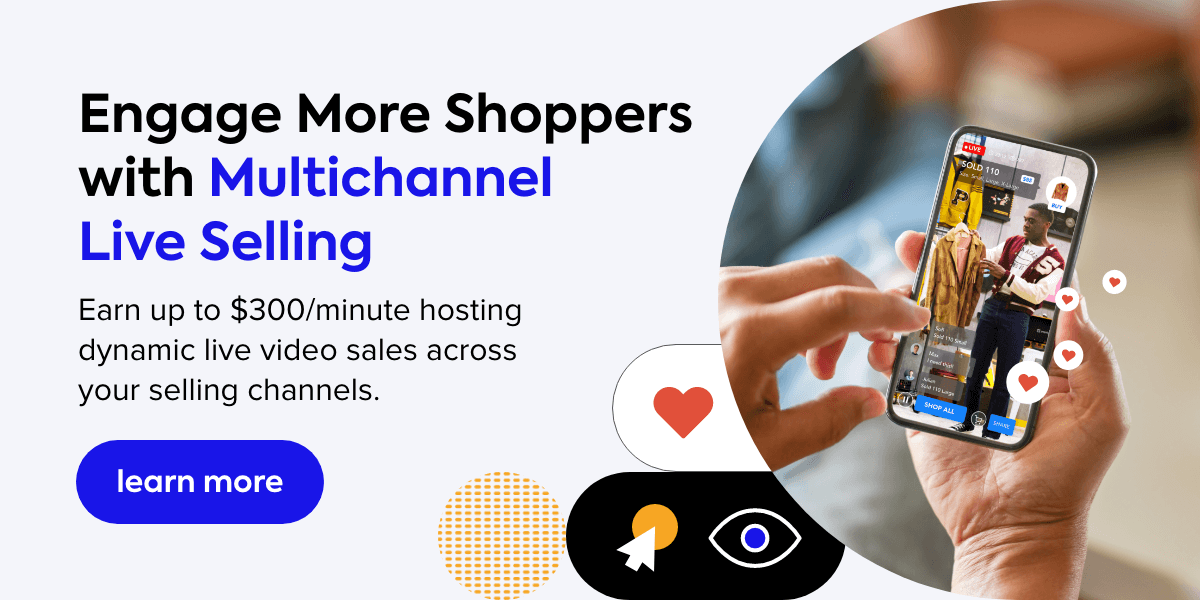 Tip #6: Be Impeccable With Your Lights, Camera, And Action!
Technical glitches can disrupt the flow of your live sessions and leave your viewers frustrated. That's why it's essential to be prepared. Test your hardware and internet connection beforehand, and have a backup plan in place in case of any technological mishaps. But it doesn't end there. To truly captivate your audience, pay attention to the finer details.
Ensure that your lighting is perfectly set, creating an ambiance that showcases your home décor products in all their glory. Experiment with multiple camera angles to provide a 360-degree view, allowing viewers to immerse themselves in the beauty of your offerings.
While we adore our furry friends, it's best to keep them away from your live selling studio. Avoid any potential accidents that could result in broken glass or porcelain. By mastering the technical and visual aspects, you'll create seamless live sessions that impress and engage your audience from start to finish.
A Friend In Need, Is A Friend Indeed
While you effortlessly showcase your home décor products during live selling sessions on social media, you may encounter some challenges along the way. Managing product counts, setting up separate live streams for Instagram, Facebook, and TikTok – it can all become overwhelming. That's where CommentSold comes to the rescue.
Our live selling solution simplifies your life by multicasting your live streams across all your social media platforms. With CommentSold's no-code integration, you and your viewers can enjoy a fully immersive shopping experience.
From displaying real-time product counts to interactive live shows, shoppable replay videos, and seamless drop shipping solutions, CommentSold empowers you to generate up to $300 per minute through live social media sales. We're here to be your trusted friend in the world of live selling. Happy selling, fam!